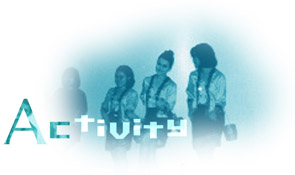 Although we are a small group of Thai students, we have done some activities together for our beloved Thailand. We also had some parties together occasionally. Please feel free to take a look at our past activities. We will also add upcoming activity information in this page when there is new activity.

| | |
| --- | --- |
| P' Bobby and P' Rose | On Sat 21st of Febuary, 1998, we held a party, "Amazing Thai Night'98" at the Claremont McKenna College Auditorium. We did this event in order to introduce Thailand and encourage people to travel in our beloved country. That night, we were very successful because the auditorium were filled with our honored guests in half an hours after opening the door. In the party, we served our guests with "Pad Thai" and "Tom Kar Kai." P' Jack showed her talent in "Chui Chai Phrarm" traditional dance. Moreover, some of our girls performed a "Serng Gra-Tib," leaded by P' Or. The Tourism Authority of Thailand also kindly brought a slide presentation under topic "Amazing Thailand." P' Win conducted a panel discussion about traveling in Thailand. At the end of the party, we drew many lucky prizes, featuring a round-trip air ticket from Thai Airways. Everybody were very happy and had a great time learning about Thailand. |
| | |
| --- | --- |
| P' Jack in "Chui Chai Phrarm" | P' or, P' oa, Yui, Nong Mai, Nik, and Toon in traditional dance, "Serng Gra-Tib" |
| The enjoyable panel discussion leaded by P' Win | Thai Airway ticket lucky winner |

On Saturday 4th of April, 1998, International Place of the Claremont Colleges hosted a "International Festival" at McKenna College. It is annual festival featuring international foods and shows from more than 20 countries. This year, we prepared some Thai foods, such as barbecue pork, pad thai, kar gai, and thai ice tea. Our girls also showed our lovely "Serng Gra-Tib" dance.
Please click this link to see some more of our general pictures.