Originally called Siam, Thailand is a country rich in culture and natural beauty. The country has more visible historical evidence of its past cultures than any other country in Southeast Asian. The Kingdom of Thailand, covering an area of 514,000 squares kilometers, lies in the heart of Southeast Asia, roughly equidistant between India and China. It shares borders with Myanmar to the west, Laos to the northeast, Kampuchea to the east, and Malaysia to the south.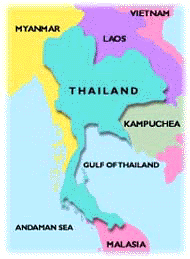 Topographically, the country is divided into four distinct areas: the mountainous North, the fertile Central Plains, the semi-arid plateau of the Northeast, and the peninsula South.
Thailand has a tropical climate with three distinct seasons: Hot (March-May), Rainy (June-October), and Cool (November-February). Average temperature is around 27 degree Celsius (80.6 degree Fahrenheit).
The population of Thailand is 59,000,000. Thailand's capital and gateway city is Bangkok, located in the Central region. But Thailand is more than Bangkok. It is a Thai stilt house in an undulating sea of green rice, the discovery of colourful northern hilltribes from elephant back or a bamboo raft. Or the ruin of an ancient temple about to be engulfed by jungle, a gibbon's haunting call in a dense rainforest, or powdery sand around a towering limestone plinth in an azure southern sea.
| | | |
| --- | --- | --- |
| | Throughout Thailand you'll discover superb arts and culture that make shopping a delight. You can embark on sports & adventure travel with treks, elephant safaris, 4WD-expeditions, or yacht cruises to discover the kingdom's natural beauty. Or take a golfing holiday, relax on a beautiful beach, shop or enjoy Thailand's incomparable cuisine. All these await you in Thailand. | |